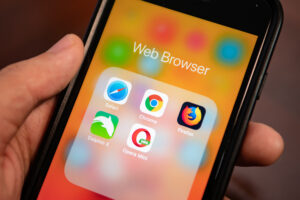 What internet browser is best for you?
Google Chrome
-Google Chrome is one of the top 4 leading internet browsers.
-Offers a reliable suite of mobile applications.
-Blocks ads that aren't industry standard.
-Browsing between multiple devices is made easy.
-Using a Google account creates bookmarks and saves data as long as the user is signed in.
-Favorites are accessible on the tab page.
-Dark mode is a feature available for both Windows and MacOS.
-Chrome is fast and free.
-Uses an extension ecosystem.
Mozilla Firefox
-Firefox is a more modern way to search the internet.
-Uses better privacy protections and anti-tracker support.
-Firefox uses password syncing for accounts.
-This browser allows interface customization.
-As a primary browser, Firefox has more privacy than Chrome.
Opera
-Opera is very similar to Chrome.
-The browser is built on Google's open-source chromium engine.
-All of its features are embedded into the browser itself.
-Opera uses website prediction to load frequently visited sites in the background.
-It allows users to install extensions such as Facebook Messenger, Amazon Assistant, and more.
-Opera combines some of the best features from both Chrome and Firefox.
Microsoft Edge
-Edge uses a chromium web browser.
-This browser also supports Chrome extensions.
-Allows add ons from the Microsoft store only.
Apple Safari
-Safari is exclusively for Mac products.
-This browser is slower than Chrome.
-Uses in-house optimization to use less of your Mac's battery life.
-Creates more privacy on your Mac devices, less likely to be hacked.
---
As always, MEG is here and ready to assist you in any way, please do not hesitate to contact our office at 877.4.GAFFNEY or email info@markedwardgaffney.com should you have any further questions.
For more information on Mark Edward Gaffney and our consulting programs head to www.markedwardgaffney.com.