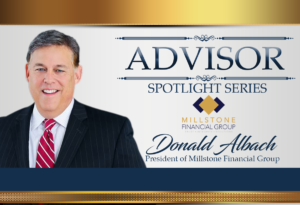 Paying homage to its headquartered location, 2003 marked the birth of Millstone Financial Group in the small yet charming community of Millstone Township, New Jersey. Housing a rock star team with over 30 years of combined asset management experience, MFG utilizes their vast financial planning wisdom to help retirees and pre-retirees make wise decisions on their retirement. Shying away from the obvious impersonal interactions of larger financial institutions, the MFG team aims their focus on approaching clients with an intimate and integrity-driven purpose.
Our Advisor Spotlight Series story begins just roughly forty-three miles north of Millstone Township in the quaint city of Elizabeth, New Jersey – fun fact, it's actually the same place the first few episodes of The Sopranos were filmed. Something else you may not know, there's a considerable number of notable figures that hail from Elizabeth. Kyrie Irving, Jim Colbert, and Alexander Hamilton, just to name a few. At the top of that list is Donald Albach, the President and co-founder of Millstone Financial Group. When he's not out sailing the Atlantic, watching college football, or filming segments for NBC, ABC, FOX, and CBS, Albach can be found at his Monroe Township, New Jersey home cooking Sunday dinners for his wife Tina and three children Paige, Donny, and Ally.
Following his graduation from Norwich University, "the nation's oldest private military college" in 1986, Albach dove head first into the world of financial services. From First Boston's International Investment Group on Wall Street to MetLife, Albach has worked exclusively in this industry throughout his entire professional career. Witnessing practically every aspect and phase of the retirement process, Albach came to the realization that while most people know how to save money for retirement, very little know about the complexities and complications that surround it. It was at this moment he decided to leave MetLife and utilize his financial planning knowledge and expertise within his own empire.
However, he didn't do it alone. Teamed up with former MetLife colleague Michael Russo, the duo has spent the last 16 years shaping MFG into what it is today. As President and co-founder, Albach spends his time running day to day operations, acquiring and servicing clients, and collaborating with the marketing director for seminars. While many other financial advisory firms seem to conform to the cookie cutter business model, MFG breaks the mold. Fully aware of the reputation that is held with the big dogs of the financial services industry, Albach and his team work to develop a reputation that reflects a true commitment to their community. Built on mission cornerstones of trust, integrity, and solutions, his team instills creative, outside-of-the-box thinking while also providing a family-oriented atmosphere to create an environment that makes their clients feel safe and secure with their retirement decisions.
It's no mystery that advocates of the same philosophies tend to magnetize toward one another. When asked what drew him to Mark Edward Gaffney, Albach confidently replied "I immediately recognized that Mark thinks outside the box, and that is where I spend most of my professional time. I knew he would be a great asset for our firm." With a goal to hit $20 million in total production for 2018, our team was ready to sink our teeth in and help hit their target. From seminar experience enhancements and home office upgrades to book writing and leveraging TV and radio, we were able to pinpoint areas of improvement that will take Millstone Financial Group from incredible to extraordinary in just 12 months.
As one of our humble podcast (coming soon!) guests once said: "If you're willing to listen to Mark and implement his suggestions, it will work." MFG's case was no different. When asked for his favorite quote, Albach answered, "Fortune favors the bold" which certainly held true when he decided to work with the MEG team. By sticking to our suggested 12-month plan, Albach witnessed incredible results and received stellar feedback in all areas of his practice. To give a little glimpse of their success, they've doubled their appointment ratio from seminars, and new client acquisition increased by 350% within the first 8 months! But don't take our word for it, just see what Donald Albach and Michael Russo had to say about us in their testimonial video below.
A big thank you to Donald Albach for not only allowing the Mark Edward Gaffney team to come in and help grow his practice but also letting us feature him as our Advisor of the Month!
For more information on Millstone Financial Group head to www.millstonefinancial.net.