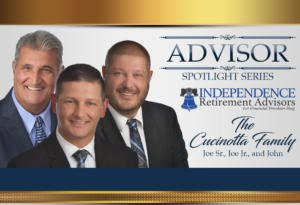 Mark has said many times that America loves a family business. Independence Retirement Advisors is a multi-generational financial advisory firm that began with Joe Cucinotta Sr. in 1977. This edition of Mark Edward Gaffney's Advisor of the Month is a 3 in 1 recognition of Joe Sr. and his sons Joe Jr. and John. The Cucinotta family is a force to be reckoned with as they serve the greater Philadelphia community in reaching their retirement goals.
Joe Sr. had the following to say on the topic of family businesses:
"Family business means so much more than working with relatives. It is about truly caring enough about our clients to want to develop long lasting relationships, inviting them as a part of our family. When this mutual bond permeates thru our entire staff, making even new clients feel like old friends, that is what makes a family business TRULY a family business."
The Cucinotta family has deep roots in their town and they swear that Philadelphia is home to the best food in the world. We have not pressed them for their answer to the Pat's vs. Geno's debate. However, on a visit to the IRA headquarters, the Mark Edward Gaffney team was treated with a trip to Ristorante Pesto and were all blown away by some of the best Italian food any of us have ever had.
IRA came to work with Mark Edward Gaffney after seeing Mark himself present at a Climb 19 conference. Joe Sr. immediately recognized that Mark's energy and approach to business were well in line with the vision the Cucinotta family had for their firm's future. Shared values are essential to building a successful and long-lasting partnership.
Working together with IRA has been such a fantastic experience. Their marketing funnels have become exceptionally streamlined because of their bold willingness to dive into new ideas. A relentless can-do attitude will take advisors further in this industry than many would ever believe.
Thank you Joe Sr., Joe Jr., and John for being valued members of the MEG client family.
For more information on Independence Retirement Advisors head to https://www.independencera.com/.
For more information on Mark Edward Gaffney and our consulting programs head to www.markedwardgaffney.com.