Promote Your Brand!
Your email signature is usually one of the first branded items that prospects will see. It includes essential contact information, your company colors, company logo, and sometimes your headshot. We create dozens of email signatures here at MEG. We believe every business owner should have strong brand elements to promote themselves and the vision of their company.
Steps to Create a Brand Promoting Email Signature:
Step 1:
I start by asking the client for any brand elements they already have. For example, personal headshot, company logo, brand colors, contact information, etc.
Step 2:
Visit the clients website, if they have one, to get a feel of how the company is already promoting their brand. Sometimes I find other elements to use from the website.
Step 3:
Create a preliminary design for the client. The client will either approve or give us changes to make.
Step 4:
Once the preliminary design is created and approved, we usually ask for the rest of the companies team information and create email signatures to match the approved design.
Below are Examples:
MEG Website Elements used to create our email signature: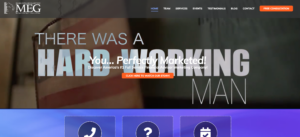 Email Signature: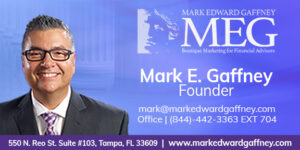 ---
As always, MEG is here and ready to assist you in any way, please do not hesitate to contact our office at 877.4.GAFFNEY or email info@markedwardgaffney.com should you have any further questions.
For more information on Mark Edward Gaffney and our consulting programs head to www.markedwardgaffney.com.