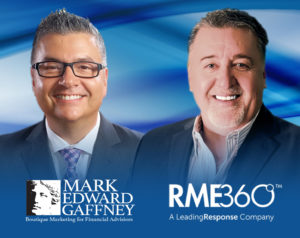 We are excited to announce our very first episode of many in the "Don't Freak Out, Be Freakin' Awesome" series on our new video platform.
This new digital platform will have weekly interviews with some of the most prominent members in Digital and Traditional Marketing and Media.
In this series episode, we'll be talking with Jorge Villar, Senior VP at LeadingResponse, to discuss strategies for effective growth and retention in this new digital marketplace. He'll also outline how LeadingResponse can develop turnkey solutions for online events and webinars for your business.

We'll also discuss:
Insights into how you can use webinars and digital media to maximize your reach and gain new clients.
Ways to set up your organization for collaborative success to support webinars and digital marketing.
Predictions for the future of digital marketing and webinars and how it will evolve in the coming months and years.


---

 
---
For more information on Mark Edward Gaffney and our consulting programs head to www.markedwardgaffney.com.