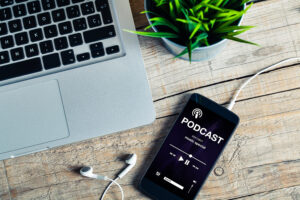 Why should your business start a podcast?
Creating a podcast is another way to build brand awareness! Podcasts create a new way for your business to have a voice and reach your customers. Having a podcast is super easy and it is free if you launch it on Anchor. It is estimated that around 90 million people listen to podcasts.
5 reasons to start a podcast:
1: It doesn't cost much to get started!
2: You can get money for your show by having sponsors.
3: You can help position yourself as an authority or an expert at your niche!
4: Use your podcast to promote your services or products.
5: Podcasts don't use a lot of your time up, most podcasts only post once a week.
What do I need to get started?
1: A podcast name
2: Categories and subcategories
3: Microphone
4: Audio recording software
5: Anchor to launch your podcast
---
As always, MEG is here and ready to assist you in any way, please do not hesitate to contact our office at 877.4.GAFFNEY or email info@markedwardgaffney.com should you have any further questions.
For more information on Mark Edward Gaffney and our consulting programs head to www.markedwardgaffney.com.