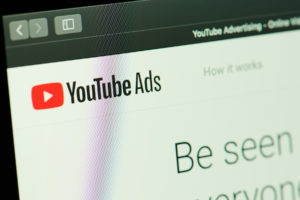 Can I use YouTube to generate leads?
YouTube is a great way to collect leads, but it will take some time. It takes more than just putting a video up and gaining views. First you must build a branded community. Once you have a branded community, people can be sent to a landing page or other related videos. YouTube gets over 30 million visitors a day, which is more than Facebook and Netflix combined!
YouTube is great tool for marketing and branding, it also allows you to reach clients outside of your normal audience. Targeting audiences whose interests aren't the same as your normal clients can be difficult, but not impossible! You don't have to completely change the way you target, but do some A/B testing and see how your new group responds to ads.
How much does it cost?
A typical video ad post can cost around $0.106 – $0.30 per view, depending on your targeting and video quality.
What kind of ads should I use?
Non-Skippable Ads
Non-skippable ads can last up to 30 seconds. When a viewer watches the ad the advertisers have to pay and the creator of the video gets paid. Setting up your landing page correctly and making sure your videos are engaging will allow you to obtain leads.
YouTube TrueView Instream Skippable Video Ads 
Instream skippable ads can be skipped after 5 seconds, they usually are in the beginning or middle of the video. The viewer must watch 30 seconds of your video in order for the creator to be paid and the advertisers to be charged.
YouTube Display Ads
Display ads are less interactive, they appear to the right of the featured video and above the video suggestion list. They require the user to click the ad for the creator to be paid and the advertisers to be charged.
---
As always, MEG is here and ready to assist you in any way, please do not hesitate to contact our office at 877.4.GAFFNEY or email info@markedwardgaffney.com should you have any further questions.
For more information on Mark Edward Gaffney and our consulting programs head to www.markedwardgaffney.com.