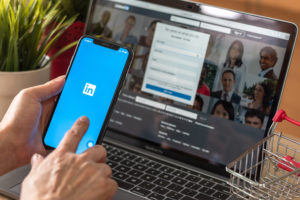 Can I create an ad campaign on LinkedIn?
Google and Facebook are both great platforms to create ads for your business, but LinkedIn connects you with the world's largest audience of distinguished professionals! Create your own ads on LinkedIn's self-service ad campaign.
How many types of ads can I use?
There are four different types of ads available for you to use in your campaign: Text Ads, Message Ads, Sponsored Content, and Dynamic Ads.
Text Ads
Text Ads are simple but effective! Text ads are pay-per-click (PPC) or cost-per-impression (CPM). Text ads allow you to:
Target your audience with your message
Pay for only the ads that work – PPC or CPM
Create your own ads in minutes
Message Ads
Reach your prospects on LinkedIn Messaging! Message ads allow you to:
Direct message and talk directly to your prospects
Create stronger engagement
Calculate the value you're getting by seeing which companies are taking action
Sponsored Content
Sponsored Content shows up directly in the feed of the target audience you want to reach. There are three different formats: single images ads, video ads, and carousel ads. Sponsored Content allows you to:
Use profile-based data to target your audience
Reach your audience across desktop and mobile feed
Create and drive leads, build your brand, and stay in front of your prospects
Dynamic Ads
Dynamic Ads allow you to become more creative and personalize your ads. LinkedIn profile data- photo, company name, title- is used to create more targeted ads
Here are the three formats of Dynamic Ads:
Spotlight Ad: Spark an action by advertising for an event or new product
Follower Ad: Drive and promote members to follow your Linked In page
Jobs ad: Personalize ads to reach relevant applicants
---
As always, MEG is here and ready to assist you in any way, please do not hesitate to contact our office at 877.4.GAFFNEY or email info@markedwardgaffney.com should you have any further questions.
For more information on Mark Edward Gaffney and our consulting programs head to www.markedwardgaffney.com.